Ampliar
A new message attempt after a failed message is being set to MESSAGE_STEP_EXPIRED
ID de respuesta 11220 | Revisado 20/11/2019
Why the next message attempt after a failed message is being set to 'MESSAGE_STEP_EXPIRED'?
Environment
Oracle Field Service (OFS)
Issue
I have configured a certain 'Number of attempts on 'failed' status' for a message step but the messages are not being sent and are being set to MESSAGE_STEP_EXPIRED.
Resolution
The value in the parameter 'Sending will time out in' needs to be big enough to accommodate all the attempts and the interval between attempts.
Example: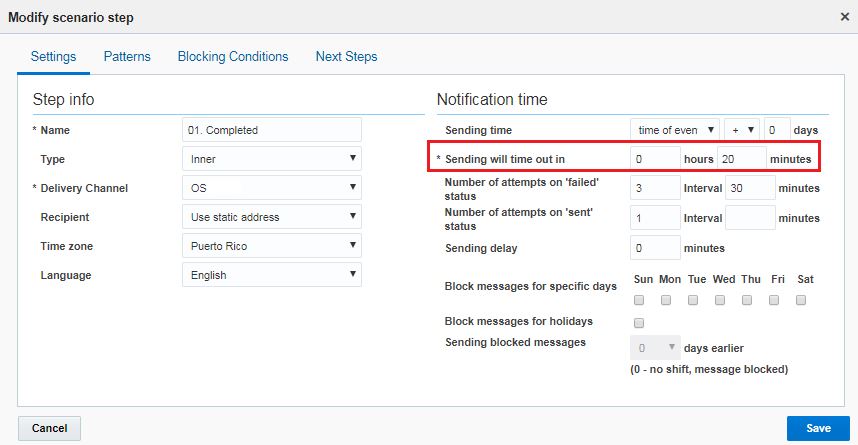 According to the configuration above, parameter 'Sending time' is set to 'time of event + 0' and 'Sending will time out in' is set to '20 minutes'.
In our example, message is first sent to external system at 16:45
External system sends set_message_status 'failed' at 16:48
Based on the configuration in the message step, system should try the next attempt 30 minutes from the first attempt (16:45 + 30 = 17:15). Since the parameter 'Sending will time out in' is set to 20 minutes, the message will not be sent out and will be set to MESSAGE_STEP_EXPIRED because the 'Sending will time out in' already expired 10 minutes ago.
¿Le ha sido útil esta respuesta?
Aún tiene preguntas?
Lenguajes disponibles para esta Respuesta:
Notificarme
Conexión
La página se refrescará al enviar. Las entradas pendientes se perderán.